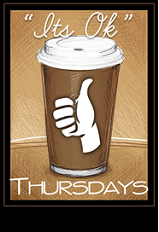 Amber
Click the button above to visit and link up too!
"Its OK"
- That I sent my daughters boyfriend this text. He is coming over tomorrow while my daughter is at work to help us set up/get ready for her graduation party on Saturday. We refer to him as the "son we never had" even though we have a son. He is so helpful.
-That my middle daughter turned to my visiting daughter and said "do you like how mom flirts with my boyfriend on text"? I wasn't flirting. He just has that personality that you want to joke with him.
-That I gave my favorite baby these bangles to play with and she knew immediately what to do with them. A girl after her Mimi's heart.
-That I had my favorite baby walk to the mailbox with me. I had to give her some mail so I gave her an ad to play with. She played with it for hours. Who needs fancy toys?
-That when my middle daughter came home from work, the baby put her arms right up to be picked up by her. She hasn't seen her since Thanksgiving. She remembered her. She was so excited to see her aunt. Maybe she feels a kinship to her because they wear the same size clothes.
I am going to use this picture as much as I can. Every time I see it, it makes me smile.
-That after we got home from picking up my daughter and the baby, I picked up the baby and she snuggled with me and she put her head on my shoulder. She was also grabbing my legs to hug them. She is so affectionate and cute! She melts my heart.
-That it didn't take the baby long to feel comfortable at Mimi's. When she is here, she rules the roost.
-That I love having my kids home.
-That I got my first gel manicure this week. I wont do it all of the time because it is not good for your nails. I cant wait to see how it holds up.
-That I am waiting for my favorite baby to wake up to take her on my walk with me. It will give her mother some peace and she will keep me company.
-That I really have nothing to say about the whole Snoop thing. A dog isn't good enough? Lion just doesn't go with Snoop. Snoop Dog sounded better for shizzle.
-That I am not enjoying this season of Big Brother at all. I don't like the whole concept of having coaches. Just play the game.
-That I think the gypsies are in town. I am very disappointed they didn't come by and ask to do my driveway. My husband and I have already decided that if they every do come by, we are going to have them do it. Part of the bargain will be that they bring some of the women in their big fat gypsy wedding dresses. We have a very long driveway. They have to work for it.
These were spotted in Walmart parking lot. Every time I see one I think of gypsies because these are their homes. I actually turned my car around to snap these photos. I am fascinated with gypsies.
-That it is August. Not only is it my birthday month, pre-season football will begin. Yeah!
-That I sat at work on Monday from 8:45-4 by myself ALL day. There was not one appointment booked until 5:30. Did I mention I was there by myself ALL day ? That has never happened before. The phones were quiet too. I think it was the longest day of my life. When the night girl came in to relieve me, I was standing at the door, ready to bolt. I told her she was lucky my brain spatter wasn't on the wall behind me. I usually stay and chit chat with her for awhile. Not that day. I just wanted out. I am not the kind of person who can go all day without human interaction.
-That there is still high school drama with my old high school friends. I am glad that I am not involved and don't know all of the details. Who has time for that? At our age? Boy do I hate drama.
-That while picking up a little something for my daughters Birthday, I bought myself a treat. Another
www.alexandani.com
bracelet. I was the one who went through labor after all.
I had been wanting a beaded one to break up the look That doesn't mean that I don't want some more with charms for my birthday. (hint to my family)
-That my daughter promised to fix my blog while she is here. I hope she does. I deleted all of my buttons by accident and I now have to replace them.
- That it doesn't get any better than this.
I think she was asking for a mini baby pony on this walk and of course her LoLo would say yes. She has him wrapped around her little finger.
Have a great Thursday!