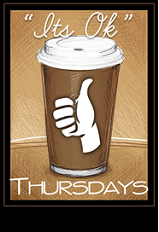 I am linking up again with with Neely:
A Complete Waste of Makeup
and Amber:
Brunch With
Amber
Click the button above to visit and link up too!
"Its OK"
- That its Thursday and I haven't been out of the house since Monday. Go away rain.
I don't want the sun to come out tomorrow, I want it to come out today!
- That at least the lousy weather has given me motivation to get the house cleaned up.
-That because of my laziness this week, I have to cram everything I need to do into today and tomorrow. I still need to shop for mothers day. I still have no desire to venture out of the house.
- That I finally get to try something from Scentsy. It is not popular in my area. I had never heard of it until my daughter moved out of state. My daughter sent me my Mothers Day present (no I did not open it yet , it came in a box with Scentsy written all over it.) I know its all about advertising
but
maybe there should be an option that if it is a gift, you can send it in a plain box.
- That I learned that "The eyes are the nipples of the face". Thank you My Big Fat American Gypsy Wedding. You are still not watching this show?
- That I wanted to take the 14 year old girl from this weeks episode of My Big Fat American Gypsy Wedding and have her come move in with me. She does not need to be husband hunting at her age. I felt so bad for her. There is so much more to life. She was such a cute girl.
- That I was having such a good time at my first cookout on Sunday that I never made it to the second one I was supposed to go to.
- That I did NOT bring home Pizza Hut when I worked Monday night.
-That after having my family over on Saturday,
I am even more convinced that I was adopted. They just aren't telling me.
- That I made my mother take all of the pastry we didn't eat home with her.
-That I am glad I was too lazy to cook and
my husband volunteered to do it yesterday. He made the best lemon chicken I have ever had! My husband is not a huge lemon chicken fan but he made it for me. He is the best.
-That I am happy/sad that as of next week, my middle child will be a college graduate.
-That today my daughter takes her last final exam EVER. I hope she does well.
-That I am in a pretty somber mood this week. I think my sense of humor is hiding out with the sun.
Happy Thursday!