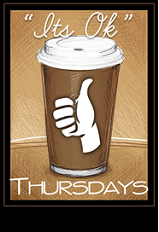 I am linking up again with with Neely:
A Complete Waste of Makeup
and Amber:
Brunch With
Amber
Click the button above to visit and link up too!
"Its OK"
- That during a long conversation with my sis, she told me some things that I wish she hadn't. Her ex boyfriend would wear his snuggy naked underneath with his butt hanging out. Please pass the brain bleach.
- That my daughter dropped off my favorite grand baby at the babysitters. She got bitten by some little boy 4 times. My first instinct was to get on a plane and rip out every single one of that little boys teeth. I thought I was protective of my kids.....It is even worse with my little princess.
-That thanks to my beautiful daughter, I am now the proud owner of a Scentsy warmer and I am addicted to it. I turn it on the minute I wake up! Who is going to sell me my Scentsy refills when I need them?
-That with my husband away again, it is obviously junk food fest.
-That with my husband away, my dishwasher is full with mostly wine glasses.
- That with said wine in my system, I made my husband a video of me singing and dancing. At least I kept my clothes on. It must have been good because he asked for another video. No I will not post the video. I have pride.
- That being at my parents house reminds me of the movie "Groundhog Day". I can only take the same thing over and over again for about an hour and a half, after that, I get antsy.
-That I worked for four hours on Saturday and we sold over $3,000 in gift certificates in that amount of time. Not one woman, it was all men, waiting until the last minute.
-That I had to celebrate Mothers Day with my husband on Saturday because he had to leave for business Sunday. He is unbelievable in the way he takes care of me. It was probably one of THE nicest days out on Saturday when I got home mid afternoon. I came home to this, where we enjoyed drinks on the deck.
-That my husband was reluctant to give me the recipe for Cosmo's. He thought I wouldn't need him anymore. Is he crazy? I have to say, mine werent as good as his.
-That I finally watched the bachelorette last night. I genuinely like Emily, she seems like a sweetheart. I feel bad for her and the douchery that is sure to ensue this season. Why do some of these men look like they got their suits in the little boys department?
-That happy hour will commence around 1ish if I go out with my friend ShaSha today.
-That I only have to rattle around this house by myself for one more night! Yeah!
-That it is my daughters college commencement this weekend and I need to go buy some waterproof mascara.
-That my husband is in Texas. What would you do in Texas in your down time? You shoot a gun . They not only went to the gun range, they went skeet shooting too. He hit all of the targets and it was his first time doing it. Remind me not to make him mad.
Have a great Thursday!