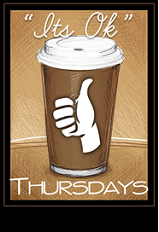 I am linking up again with with Neely:
A Complete Waste of Makeup
and Amber:
Brunch With
Amber
Click the button above to visit and link up too!
"Its OK"
- That I think the March of Dimes has the best fundraising strategy ever. They mail you a dime and some ugly address labels. You
cant
keep the dime or throw it out without guilt. I am mailing my check today.
- That I thought I was in college this weekend. My body has been telling me otherwise all week.
-That I am sad about Junior Seau. He was such a great athlete. I guess money and fame don't necessarily make you a happier person.
-That I was trying to figure out what day to visit my mother and grandmother (my grandmother is staying at my moms for the week because my aunt, who lives very close to my grandmother, would be out of town). I knew they were going to the casino so I wanted to know what day. This was the text.
-That I taught my 72 year old mother to text. She uses the abbreviations too. I didn't teach her that.
-That the old man that works in the pasta aisle at the grocery store told me a few weeks ago that his aisle would be a toll aisle next time and I would have to give him a hug. He used the same line on me this week, so I just hugged him (if he was one of the pervs that work there, it never would have happened, but he is cute). He then proceeded to tell me that if he won the lottery he wants me to come away with him even though he knows I am married. He said we could give my husband a cut of the winnings to keep him happy.
-That I am a ridiculous grocery shopper. I haven't been for a few weeks though and all of my staples were low. I still obviously have not learned to shop for two or use a lot of coupons. I did find two coupons that were taped to the shelf and used them. I hope my husband is proud of me. Maybe secretly I am hoping that he thinks I am ridiculous and will take over the grocery shopping.
-That I have to order my daughters graduation dress. I still think its too short but oh well. I guess you should wear short dresses while you can. She will have her gown over it anyway.
-That even though I am an old sea hag, the kids at my daughters school said they wished I went to their school.
-That I made a few new friends this past weekend. The one on the left reminded me of Chad Michael Murray.
-That my daughter and I were treated to a wonderful lunch on Saturday. Thanks Steve!
-That I ate pavement when my heel got stuck in the cobblestone while I was trying to pull my daughters dress down. Yes I know, it seems to be a recurring theme of me having to cover her up because she makes poor clothing choices.
-That I am beyond excited that My Big Fat American Gypsy Wedding started on Sunday. The woman that makes their dresses is in a Boston suburb. I don't know if I should stalk the shop in hopes of meeting an actual gypsy or have her make me a dress.
-That I am so impressed with the talent on the blogosphere that I realize I need a hobby other than happy hour.
-That I have my husband convinced that working on my blog is actual work and he cant interrupt me.
-That after witnessing the college lifestyle these days, I am glad I am at the stage of life I am in right now.
-That even though I ate horribly this past weekend (french fries, cheese, lots of cosmo's), I actually lost weight. Maybe all of the young metabolism rubbed off on me.
-That thankfully this was not us this past weekend. We watched from my daughters balcony as police detained this guy for about an hour and a half. It ended with him in the back of the police car and his car getting towed. Poor guy.
-That I have another crazy busy weekend coming up. The house will get cleaned eventually. The dirt isn't going anywhere.
Have a great Thursday!