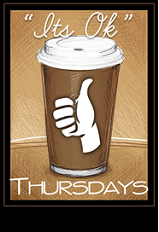 I am linking up again with with Neely:
A Complete Waste of Makeup
and Amber:
Brunch With
Amber
Click the button above to visit and link up too!
"It's OK"
- That my daughter got home last week and I already have her days planned doing errands. Its nice to have her home
-That the pasta aisle worker at the grocery store got called into the office because someone heard him ask me for a hug and complained. He said it was probably someone ugly that he didn't ask for a hug. I told him I have his back.
-That I went for a month without a radio in my car because my husband couldn't find where the fuses were. My daughter took care of it for me and got my inspection sticker. What a good kid.
-That I chipped my nail polish and had bare nails for days. I gave myself a mani/pedi seeing that I am in a DIY mood. I really should do it myself more often.
-That I pretty much waited until the last minute again to book my tickets to see my favorite grand baby. I cant wait to see her!
-That I planned on how long I would stay at my daughters according to how long I could take her annoying dog.
-That I cant open my upstairs windows because of the pollen. It is disgusting. Thank god for air conditioners.
-That my mothers birthday is Saturday and I ordered her a monogrammed necklace yesterday. I guess her gift will be late.
-That I finally get to break out my white jeans
-That I talked myself out of grocery shopping today because I really don't need to go. I am going to go get flowers for the yard instead.
-To make time for your friends no matter how busy you are
-To be lazy in the summer and give your blow dryer a break
-That my daughter just read my blog and tweeted me this message,
Not to be a critic but your "It's OK Thursday" blog is lacking #Justbeingconstructive
My response was, Not to be a critic but get off of twitter and start looking for a job!
Happy Thursday!