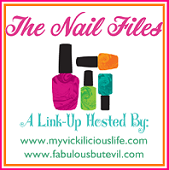 They are selling a new line of polishes at one of the beauty supply stores that I go to. I have been wanting to try it, so I did.
Venique "Cleats Calling Four!"
I asked the girl that worked at the beauty supply if she had used this new polish yet and she said yes. She said she loved it and that I would probably only need one coat because it was very opaque. I was hoping that wouldn't mean it was too thick. One coat sounded OK to me as opposed to the three I have been doing with Essie lately. However, I was a afraid to do just one coat. That wouldn't feel like my nails were "done". I did end up doing two coats and it dried just fine.
I asked the girl doing my nails what she thought of the polish seeing that I wasn't actually using it. She said the brush was a little too soft and long. This polish actually happened to be pretty thick too. I told her to thin it out if she was having trouble. I bought another color too and checked to see if it was as thick. It wasn't. Maybe it was just this particular color. I cant wait to see what kind of wear I get out of it. My manicures typically last two weeks so we will see. It has a nice shine and seems pretty even to me.