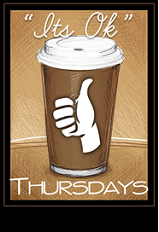 I am linking up again with with Neely:
A Complete Waste of Makeup
and Amber:
Brunch With
Amber
Click the button above to visit and link up too!
"Its OK"
-That while trying on sundresses with my daughter yesterday, I looked like the side of a barn. I realize I need to take care of that situation. I ate cereal for dinner.
-That I know if I gave up happy hour I would probably drop the 10 pounds I want to drop. That's not happening. I would rather be barn sized and happy than skinny and cranky.
-That I was jealous of my daughters adorable figure while trying on said dresses. She looked cute in everything.
-That I cant get the image of my mother jumping on my daughters boyfriend like a spider monkey out of my mind. He is such a good sport.
-That I am addicted to the new scent crystals you put in with your wash. I have bought every brand. Gain is the best.
-That I am watching the landscapers mulch my neighbors yard and I am thankful it is not me doing the mulching (Our yard looks better)
-That I am so over hot flashes and mood swings. Don't women go through enough giving birth?
-That I only have to wait 5 more days to see my favorite grand baby
-That my husband has to contribute to buy his Fathers Day present.( I work one day a week, he picked an expensive present. )
-That I am waiting patiently for my contact lenses to arrive. I really need a fresh pair. Next time I will order BEFORE I use my last pair.
-That I have no patience for stupidity
-That I have to tell my almost 22 year old to clean her room (see how she is mocking me?)
-That I just want the sun to come out and stay out
-That I am looking forward to being with my out of state daughter on her birthday. We are going to have a fun day!
-That I told my daughter we should do a veeeelog while I am there. She said "mom its called a vlog". I guess I am not as hip as I thought I was.
-That I bought my favorite grand baby a cute bikini. I know she is not quite 2, but I am going to make this my tradition (I bought her her first bikini last year). Now I just need to find jellies like my girls used to wear.
-That its Thursday and its grocery shopping time. I hate it just as much this week as I do every week.
Happy Thursday!