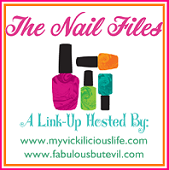 I took my daughter for her birthday to get our nails done. My nails chipped in two days, very disappointing (probably from ripping open all of those junk food bags) I can never go with chipped or undone nails..
Not being licensed in Maryland, I couldn't go to the beauty supply for product. I had my daughter take me to Target for nail products. I have to tell you, I am quite impressed. I did my nails on Sunday and there is no sign of wear at all. Here is what I used.

Sally Hansen, Double Duty strengthening base and top coat.
I used this as a base coat.

Sonia Kashuk Nail Color in "Dream of Genie"

Sally Hansen, Insta Dry anti-chip top coat.
It is supposed to dry nails to the touch in 30 seconds. It delivered.


I will definitely be using all of these products again. They did not have much of a variety of Sonia Kashuk nail colors. I hope it was just that the particular Target store that I was in, didn't carry a lot of colors. I will definitely be buying this brand again. It was good quality for a very reasonable price.
Have a great weekend!