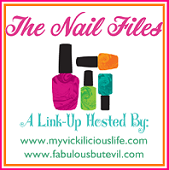 Today I am linking up with
Tara
and
Vicki
for the Nail Files.
I had my nails cut down yesterday. They were just too long and out of shape.
I wanted to do something other than pink. It seems like thats all I have been doing lately.
Sally Hansen "The Real Teal"
This happens to be one of my favorite colors. Every time I see a clothing item in this color I buy it.


After our mani/pedi's, my daughter and I spent the rest of the day on the deck having happy hour. Tough life I know, but somebody has to do it.