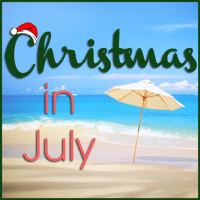 I recently took part in a blogger swap called Christmas in July. My friend Alyx,
http://www.itsalyx.com/
was a co-host.
We were given the name and address of our swap partner and a list of what they like. My partner was Ashley at
http://ohwellsinsteadofwhatifs.blogspot.de/
. Not only did I get a swap partner, I found a great new blog to read. Ashley is very inspiring and a great girl. I really lucked out getting her as my swap partner!
Ashley was so easy to buy for because she is so easy going. I enjoyed shopping for her as much as I enjoyed receiving the package from her. You can check out Ashley's blog to see what I sent to her.
Here is what I received:

How adorable is this mug? How did she know I had just broken my favorite mug? This is hands down my new favorite. I love personalized things!

I love these earrings. I couldn't wait to wear them to work. I can only wear black, white or grey so how appropriate are these?

"Cajun Shrimp" by OPI. The only disappointing thing about this is that I had just returned from getting my mani/pedi and the package from Ashley had arrived while I was out. Now I have to wait a few weeks to use it! This is an oldie but goodie and I love it. I haven't used it in years.

I suffer from bad breath so these will definitely come in handy (I am totally kidding, at least I think I am, anybody?) No seriously, I love the name of these mints.

She also sent a beautiful hand written note (I forgot to put one in the package I sent her and I regret it). Her note is still out on my windowsill where I put my cards.
Ashley did an amazing job with my package. It was like she knew me and knew exactly what I like.
I am so glad I got to know her through this swap. Thanks again Ashley!
OK who is hosting the next swap?
Enjoy this beautiful day!