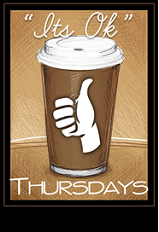 Amber
Click the button above to visit and link up too!
-That I am not on the Fourth of July Committee anymore but they still call me to help out. I had to help coordinate the carriage/bike/dog contest in town. Our town population is 14,892. Why wont anyone else step up to the plate? Its OK because I actually enjoy doing it but still.....Its always the same volunteers for evertyhing that goes on in town..
-That my curling iron died (R.I.P) and I was to uncoordinated to use my daughters newfangled one. Hello straight hair.
-That for the next 3 weeks I am not only working Monday, I am also working on Thursday. I will need a vacation after.
-That my daughter landed a job on the first real interview she went on. Yeah G!
-That I am a little sad that we wont have as much time to hang out because of said job.
-That my favorite grand baby will be coming to visit in a few weeks. Yeah!
-That I found the picture that goes with my marinade post so here it is
-That I am so excited that Big Brother starts tonight. It is not summer without Big Brother.
-That as much as I like Emily from the bachelorette, I couldn't help but notice on the last episode I watched (I am a week behind) that she picked the men from first to last according to how much money they had. Was it subliminal on her part?
-That I am obsessed with the sister wives blog
http://sisterwivesblog.blogspot.com/
-That it is 11:00 am on Thursday and I am finishing my blog at work because my daughter tweeted me and asked me where my Its "OK" Thursday post is.
-That while on my way to work I make two stops. One to play the lottery and one to get coffee. When I stopped at the store to play my lottery , the woman ran my tickets through the machine then looked at me and said "are you in a rush?" I said "not really". She asked me if I would watch the store so she could run to the ladies room. She was waiting for someone to come in that she trusted.. I guess she picked me because I am a regular
gambler
customer and I look trustworthy. We always have nice chit chat when I go in, I obviously watched the store for her. It was uneventful.
-That the ice cream man in our neighborhood needs to get new music and a new player for his music. He plays slow Christmas music and other weird un-ice cream truck like music that almost sounds warped. His lifetime movie title would be "The ice cream truck killer". The music sounds that creepy. If I were a kid, I would stay away.
-That I am loving this Soft Soap Vineyard Escape body wash. Now I can bring happy hour into the shower with me. We all know how much I love my happy hours. You can bet I will be having happy hour today.
Happy Thursday and enjoy the rest of your week!