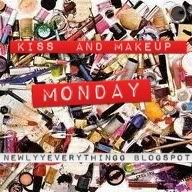 Today I am linking up with Mrs. Xenos
I have so many reviews on new products that I have tried lately! I don't even know where to begin. Be prepared for many product review posts in the near future.
Today I am going to share one of my favorite new drug store makeup finds.
Physician's Formula Gel Eyeliner
. It comes with three stackable gel eyeliners that complement your eye color. I have green eyes so I bought the green eye color trio. It comes with purple, green and black gel eyeliner and a brush. I absolutely love this product! I don't think I have used an actual eye pencil since I have discovered this set. I did not find it hard to apply at all. I will say the brush it comes with is a little too short and wide. I use a different brush. The brush I use is very fine and narrow with a longer handle. I also use a smudger brush after I apply the eyeliner to soften the effect. If you don't own a smudger brush, I suggest you find one. It is a great tool to blend any eyeliner including liquid. Harsh lines are not pretty.
This product really makes your eye color pop.
I loved what the product did for my eyes so much that I bought the kohl version. I love these too! They are easy to apply and a good alternative if you are afraid of the gels. It gives you a soft effect. You can layer it for a deeper effect. They have an eyeshadow set too for your specific eye color. I will be trying that next. I will keep you posted!
Today is a holiday here in Massachusetts. Happy Patriot's Day! Good luck to all of the Boston Marathon runners today. I hope the 88 degree temperature doesn't affect the runners

.