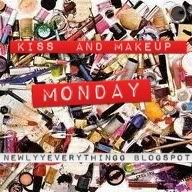 Today I am linking up with Mrs. Xenos at Newly...Everything for Kiss and Makeup Monday.
I found a great new product while shopping at the beauty supply last week.
Its a 10 Miracle Blowdry Volumizer
I was willing to give this product a shot because I have tried another product of theirs, Its a 10 miracle leave in treatment, and I really liked it.
I must confess, I love BIG hair. I am having a bad day if my hair is lying flat.
I am always willing to try anything for volume to avoid the whole hairspray/teasing route.
I have very fine hair, but a lot of it.
I cant even count the bottles of products that I have bought that promise volume but fail to come through for me. I usually give them three tries. If they don't work after that, the product would wind up in my kids bathroom. Now I guess they will just wind up in the trash because the kids bathroom is kid less (at least until May).
You spray this product in before blow drying. You can actually use it on dry hair as well. I have not tried that yet.
The first time I tried it I did not use enough. I think I used just the right amount the second time because I did not need hairspray at the root for lift. I usually just spray the roots at the top of my head, not all over.
My hair stayed full of volume all day. I am very impressed. I am loving it!
Do you have a favorite root booster?
Have a great Monday!