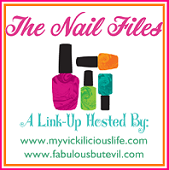 Today I am linking up with
Tara
and
Vicki
for the Nail Files.
This week I used Essie. I am finding with Essie, you need three coats to get the true color. I don't really like that. It means longer drying time.
Lapis of Luxury
I found this color at Walgreen's. I would usually go to the beauty supply to get it and pay half of what I paid for it, but I was too lazy.
I had my nails cut down a little bit this week. They were starting to look like witches nails.
So far I am loving this color.
I am off to Newport, RI in a few hours to hang out with my daughter, bring her dresses and to pack up and bring home a lot of her things before the school year ends. It will not all fit in her car. Of course I will be bringing food and she has already invited people to join us.
Newport is beautiful and such a fun place to be! I wish it wasn't going to be cold. I am sure I will make the best of it.
Have a great weekend!