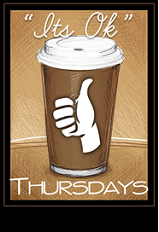 I am linking up again with with Neely:
A Complete Waste of Makeup
and Amber:
Brunch With
Amber
Click the button above to visit and link up too! Yeah its Thursday!
-
That I felt like a loser at Walgreen's buying Poligrip and denture cleaner for my "flipper". Maybe Betty White needs a new BFF.
-That I am excited that my middle child will be home for a week starting tomorrow. Spring break! That means happy hours, shopping, nails and fun! (as long as she picks up after herself)
-That I plan on being out of the house all day today. I don't know what I am doing yet but it is going to be 66 degrees!
-That I have been out two days in a row looking for a tablecloth for my unusually sized/shape dining room table. I am never going to find one.
-That my daughters friends friend me on face book. I always ask her first if I should accept.
-That even though I discovered there is a hole in the bum of my leggins, I am still wearing them. Don't worry I am not wearing them in public. Now that I have admitted this publicly, I have to throw them away.
-That I really want a pet. I do not want a dog, I want a mini pony. An outdoor pet is the perfect pet for me.
-That March is usually my most hated month. It is not bothering me at all this year.
-To think that anyone over the age of 30 should not use the word "bounce" unless they are talking about dryer sheets or actually bouncing.
-That I am one stomach flu away from my ideal weight thanks to my dental surgery and not being able to eat much for a week. With my daughter coming home this week, I am sure I will be back to square one.
-To be excited when you hear birds chirping.
-That I bought beauty products for my friends Birthday and decided to keep one of the things I bought for myself. I will replace it with something else.
-That my daughter is dying to have me come visit her at school for a weekend. I hate driving so much that I may go back to school with her and have my husband come pick me up.
-That I have to pay my daughter to clean all of my floors for me. It is worth it for a week off.
-That I need to be done with this post so that I can enjoy this beautiful day!