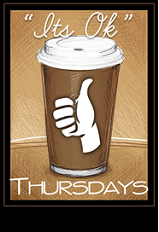 I am linking up again with with Neely:
A Complete Waste of Makeup
and Amber:
Brunch With
Amber
Click the button above to visit and link up too!
- That I never open my door to peddlers. When I had all of the kids living at home they would yell PEDDLERS when we saw them walking up our driveway and everyone would hide. I don't care if you have on a shirt and tie and are carrying a bible. I saw that Lifetime movie before.
-That even though I don't need to clean, I did it anyway because I had the time and energy. Who knows when I will have the time and energy again.
-That I have volunteered to spread the mulch. The husband will be charged accordingly. I will charge him less than the landscapers would. I am nice like that.
-That I am more excited for the opportunity to babysit my favorite grand baby for a few days than I am for an actual vacation.
-That it pays to have friends in high places. Remember that $250.00 ticket? It doesn't exist anymore.


-That I am so excited that one of my favorite shows, My Big Fat Gypsy Wedding is back for a second season. Don't ask me why I am so fascinated with a culture that spends more money on their wedding dresses than they do on the trailers they live in.


-That I got to work more than one day this week.


-That when I work at night I always bring home Pizza Hut even though I say I am not going to.


-That I am going to win Mega Millions on Friday so I will see you all in 6 months or so when I am done travelling the world. (positive thinking people)

-That I am back to being a shut in because it is cold again.
-That I miss my kids.
-To go to the mall before you go grocery shopping. When you try on clothes and nothing fits, you will buy less at the grocery store.
-That i may check out Ulta before the mall. Thank you fellow bloggers. Just what I need, another beauty supply to be addicted to.
Happy Thursday!