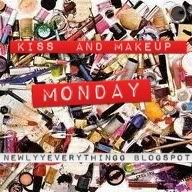 Today I am linking up with Mrs. Xenos over at
http://newlyyeverythingg.blogspot.com/
This will be a new Monday link up. If you cant join today, join next week!
You can do a beauty product review or just talk about some of your favorite products! Anything goes.
My product today:
Reinvent Color Care Top Coat from the Sexy hair line. This is from the Healthy Sexy hair line.
I had originally bought this for a friend because I was giving her beauty products for her birthday. I couldnt resist and snagged it for myself. I am glad I did.
It is not a conditioner. It is actually a glaze for your hair. It makes it really shiny and leaves it feeling soft not sticky like some glazes can. The only drawback to this product is that you need more shower time. You wash, condition then glaze. It is worth the extra time. Your hair will thank you. It will look healthier. This was my first time buying Healthy Sexy Hair. I love the Big Sexy hair line so I figured this would be great as well. It is. If you are looking for shine, you have to try this product! Do you know what a top coat does for your nails? This does the same thing for your hair.